"Making Disciples Where Christ is Least Known"
We live in a world permeated by an evil that has invaded and corrupted every aspect of life, leaving mankind separated from the Creator and hopelessly trapped in bondage to sin. We are convinced that the Gospel changes everything. It is the message that sets us free. The Gospel is the most powerful force in the world for change. God has called SIM to play an important role in the mission to bring this life-changing message to Niger.
Urgency of the Mission
1. We are convinced…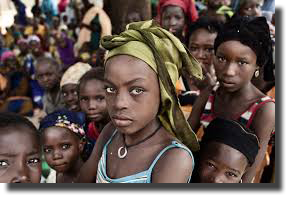 No one should live and die without hearing this good news. It is God's desire that all should have opportunity to respond to Christ's plea, "Come, follow me." And yet there are over 17 million people in this country who are living and dying without knowing what God is offering to them in Jesus Christ.
2. We believe we are called…
The Lord of the Harvest is not passive. He is actively mobilizing His servants to bring the message of salvation to Niger. We are here because we were called here by God. God is also calling other servants from all corners of the earth bringing us together in a diverse ministry team.
Six Ministry Priorities
Four Imperatives